Russell Museum enjoys telling some of the fascinating stories from the town's history. Our local paper Russell Lights carries regular feature articles called Heritage Corner which feature these early gems about the town and our people.
A selection of them have been reproduced here. When you visit Russell, look out as you may well recognise some of the places and names from our past.
Heritage Corner articles:

Fire at the Duke of Marlborough
Whangamumu Windy Harbour
Russell Town Council
Winter Sports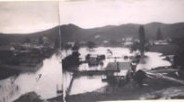 Flooding in Russell Original photo © Russell Museum The winter season is upon us, a time of wind, rain and sometimes flooding. This photo is taken at 8.45am on 6 June 1925, from the hillside above Pitt Street and looking north to Maiki Hill. To the left is York Street with the Town Hall and Hananui's fence. Far right is a house in Chapel Street now with a wisteria vine on its picket fence. The land between York and Church Streets is obviously low lying and swampy – prone to flooding. There are stories of being able to use a dinghy to...
read more