Russell Museum enjoys telling some of the fascinating stories from the town's history. Our local paper Russell Lights carries regular feature articles called Heritage Corner which feature these early gems about the town and our people.
A selection of them have been reproduced here. When you visit Russell, look out as you may well recognise some of the places and names from our past.
Heritage Corner articles:

Fire at the Duke of Marlborough
Whangamumu Windy Harbour
Russell Town Council
Winter Sports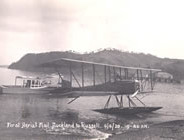 First aerial mail run to Russell Original photo © Russell Museum The Russell birdman contest brought excitement and colour to our cold grey winter days  In 1920 another birdman brought intense excitement and wonder to Russell. Pilot George Bolt brought a seaplane to the Far North carrying not only the local Member of Parliament but also the first aerial mail. The plane left Auckland at 8.30 am on Friday 9 April 1920 planning to drop mail at various places. It reached   Russell at 11.30am. The travelling speed was 60-70 miles an hour, and...
read more