Russell Museum enjoys telling some of the fascinating stories from the town's history. Our local paper Russell Lights carries regular feature articles called Heritage Corner which feature these early gems about the town and our people.
A selection of them have been reproduced here. When you visit Russell, look out as you may well recognise some of the places and names from our past.
Heritage Corner articles:

Fire at the Duke of Marlborough
Whangamumu Windy Harbour
Russell Town Council
Winter Sports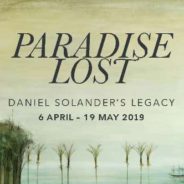 Russell Museum is presently preparing itself for the gala opening of a prestigious gallery exhibition which is transferring from Wellington direct to Russell Museum, opening on April 6th. The exhibition is called "Paradise Lost, Daniel Solander's Legacy" and references the Swedish scientist Daniel Solander (1732 – 1782), who sailed into the Bay of Islands with Captain James Cook on the Endeavour 250 years ago. Solander is most famous as a botanist, but he was a man of many parts. Paradise Lost is a collection of stunning graphic images,...
read more