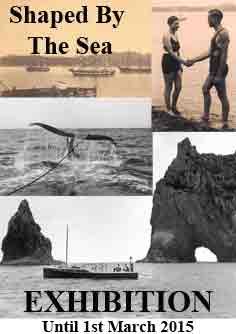 Russell Museum is open seven days:10am to 4pm.
For further details go to:
Email: info@russellmuseum.org.nz
If you are interested in early Maori history of the Bay of Islands, the whaling industry that linked traders from New Bedford and throughout the Pacific, early European settlement in New Zealand or the beginnings of the game fishing and tourism industry, then a visit to Russell Museum is a must.
Visit the treasure house of Russell (Te Whare Taonga o Kororareka) and explore:
Maori artefacts and early Maori history of Kororareka and Pewhairangi (Bay of Islands)

A large collection of rare photographs of Russell and Bay of Islands people, places and history

The largest collection of pieces from flagpoles chopped down by Maori chief (rangatira) Hone Heke in the 1840s

Early US Consulate records and shipping lists of whalers, traders and settlers with links to New Bedford USA, England, Australia and Europe

A 1:5 scale model of Captain Cook's ship Endeavour (yes it really has sailed)

A rare whaling boat and river waka (canoe)

The largest collection of artwork by acclaimed local Maori artist, Pauline Kahurangi Yearbury

Contemporary exhibitions in which history and present day concepts meet
At Russell Museum we encourage your questions because then we can add more value to your visit. We welcome schools and researchers. Your inquiries give us the opportunity to assist in education and make use of our archives which include:

Books published by and exclusive to the Museum, out of print historical books.
A collection of local newspaper clippings dating from the 1920s, local and historical magazines, oral histories, public records of archaeological digs, Treaty of Waitangi scoping reports.
Artefacts of historical significance
Come on in!
Open every day except Christmas Day:
January: 10am - 5pm and February - December: 10am - 4pm
Admission: Adult - $10 / Children - $3.00 / Family - $10 per Adult and accompanied children free